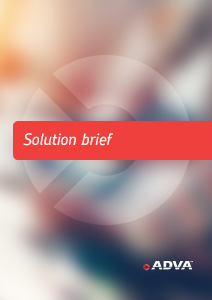 Seven reasons you should be using uCPE
uCPE brings the power of the cloud to the telco network. It involves software virtual network functions running on a standard hardware server as a replacement for dedicated networking appliances. It's a highly cost-effective and future-proof approach that opens the door to innovation at the network edge.
But what are the key issues you need to consider to realize the full benefits of uCPE? In this solution brief, we'll explore the uCPE architecture and discuss how you can deploy a solution that delivers the agility to switch suppliers, harness the latest innovation and seize new revenue opportunities.
Discover what uCPE can do for you and the seven reasons you should be using it as part of your network or IT strategy. Read how you can escape single-vendor silos, leverage the freedom to choose open technologies, and simplify your operations. And learn how we at ADVA can help you launch your journey to the world of uCPE.