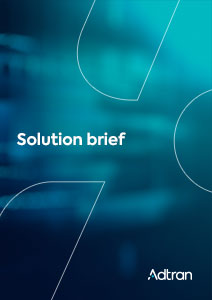 Scaling edge packet networks to 100Gbit/s
With soaring demand from mobile, residential and enterprise customers, today's communication service providers (CSPs) urgently need to scale their metro infrastructure to 100Gbit/s. But this can present serious challenges. 100Gbit/s signals require coherent interfaces to handle distance restrictions. What's more, high-bandwidth interfaces often have lower port density and higher power consumption, which impacts operational cost and requires extra investment. Our compact and powerful FSP 150-XG480 aggregator is the answer.
With high 1, 10 and 25Gbit/s port count, the Adtran FSP 150-XG480 is the ideal technology for scaling edge packet networks to 100Gbit/s. It ensures simple integration with existing network equipment andprovides MEF 3.0-compliant OAM as well as service activation and testing features. Our agile solution also features a compact footprint, environmentally hardened design and low power consumption with no need for air conditioning.In combination with standard-compliant user and network interfaces, our FSP 150-XG480 can be rapidly rolled out, enabling CSPs to respond to bandwidth needs quickly and efficiently.
Read more about the ultimate route to 100Gbit/s at the packet edge. Discover the advantages that the Adtran FSP-XG480 offers for connectivity and synchronization in mobile backhaul networks. These include leveraging our Syncjack™ technology to constantly control the accuracy of network timing, helping to deliver highly precise phase and time synchronization to each and every base station. Find out how our FSP 150-XG480 has been evaluated by major cable companies and found to meet all feature and design requirements that MSOs need.