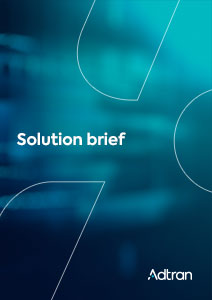 PON infrastructure monitoring
For both end users and network operators, the challenge of monitoring and maintaining passive optical network (PON) infrastructure has been a persistent issue. Traditional PON monitoring tools relied on network activity, making them ineffective in troubleshooting physical fiber plant issues like cuts. This limitation left network operators in the dark when trying to identify the true cause and location of faults. Fortunately, there's a solution to this problem that eliminates these concerns and offers a proactive approach to fiber monitoring.
Introducing our ALM advanced fiber monitoring solution with deep PON assurance (DPA) technology. This solution transforms the way PON networks are monitored and maintained. Unlike traditional methods, the Adtran ALM goes beyond live network assurance by providing real-time, in-service, OTDR-based monitoring of the physical fiber plant. It offers critical information about fiber health, attenuation and even detects fiber cuts without relying on the network's operational status. With ALM, network operators gain immediate visibility into the state of their infrastructure, enabling targeted actions and preventing unnecessary disruptions.
Discover more about how our ALM can transform your PON network management. Say goodbye to costly reflectors and the need for extensive hardware installation. With ALM's deep PON assurance technology, you can save significant costs, minimize operational complexities and ensure a better customer experience. By providing real-time insights and pinpointing the exact location of issues, ALM streamlines maintenance, shortens repair cycles and ultimately enhances network reliability. Read our solution brief to find out how to take your PON network to the next level with Adtran ALM technology.