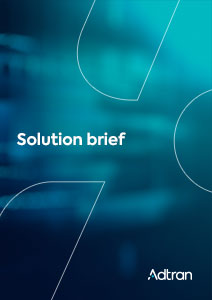 FSP 3000 OLS for terascale metro data center interconnects
Driven by booming demand for low-cost terascale capacity, ICPs and cloud providers are urgently evolving their data center interconnect (DCI) networks. As a result, optical modulation schemes are becoming increasingly diverse to meet a wide range of performance, scale and cost objectives. Today's operators must deploy an open line system (OLS) that supports a range of modulation formats while delivering highest efficiency, ultimate flexibility and future-proof scalability.
In response, we built the market's most versatile disaggregated DCI OLS solution. It offers freedom to select technologies at the platform and component level as well as complete versatility with distance. With its integrated OTDR capabilities, our FSP 3000 OLS also provides advanced telemetry with continuous live network monitoring. What's more, by automatically adjusting dispersion management and power levels to match fiber characteristics, the it ensures optimal performances at all times.
Read our solution brief to discover how the modular approach of our FSP 3000 OLS enables fully customized DCI solutions. Now operators can simply mix and match the optimum filters and amplifiers and pack them into the best-fitting shelf. Learn how our FSP 3000 OLS simplifies installation and operations with its automated self-tuning capabilities and how its built-in monitoring and assurance tools enable true open and disaggregated networking for all DCI demands.