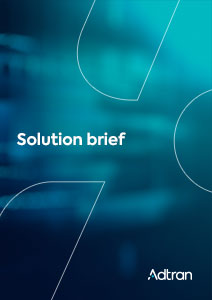 FSP 3000 metro open line system solution
Metro network evolution requires more than a major boost to capacity. Just as vital is injecting openness, flexibility and scale, as well as ensuring strict cost-efficiency. What's more, as the core and the metro have such different requirements, standard solutions deployed in core infrastructure do not fit the bill. ROADM-based optical layer architectures come with high first-in cost, too much complexity and footprint needs that make them unsuitable for metro network transformation. That's why we expanded our FSP 3000 open line system (OLS).
The new components of our FSP 3000 OLS have been engineered to meet the demands of the next-generation metro network environment. Now operators can achieve ultimate flexibility and enhanced spectral efficiency while avoiding ¬high first-in costs. Our metro OLS solution completely removes vendor lock-in, enables automated setup procedures for fully remote operation, and reduces footprint for deployment in the most space-restrictive points of presence. It features two types of ROADM node that simplify architecture and enable flexgrid while supporting the transport of high-speed coherent wavelengths.
Check out our solution brief to find out more about our metro OLS and its ultra-compact and cost-efficient network elements. These include our MicroROADM™ technology, which consolidates multiple key functions to ensure that footprint, configuration and cabling needs are kept to a minimum. Discover how our MicroAmp™ combines all common line terminal functions and provides mid-stage pre-amp access for dispersion compensation. And read about how our open and disaggregated FSP 3000 OLS is the ideal foundation for a software-defined metro network evolution.