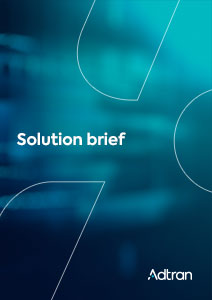 FSP 3000 Edge OLS: Unlocking the coherent optical edge
ZR coherent pluggable optics have attracted the interest of communication service providers and network operators for metro and edge aggregation networks. However, their limited optical performance hampers their application at the optical edge. While ZR optics excel in cost-efficiency, small form factors and low power consumption, they suffer from lower optical output power, limiting their use in the last mile. Operators require an optical layer that maximizes the potential of ZR optics while meeting cost and operational requirements. Compact and hardened equipment suitable for outdoor installations is essential.
Our FSP 3000 Edge Open Line System (OLS) is specifically engineered to enable cost-efficient, coherent access, edge aggregation and metro transport networks. It features ZR-optimized technology, empowering users to harness the benefits of ZR coherent optics at the optical edge. With its flexible configuration, the system supports any coherent interface and baud rate, including the latest 100ZR and 400ZR optics. It offers compact nodes with low power consumption and hardened, carrier-grade equipment suitable for outdoor deployments. The FSP 3000 Edge OLS unlocks the potential of the coherent optical edge.
Learn more about how our ZR-optimized FSP 3000 Edge OLS supports the latest and most advanced coherent optics. Read how the platform enables network operators to efficiently distribute high-capacity optical connectivity to any edge location, and how the technology helps to reduce operating costs while simultaneously boosting network efficiency. And discover how it meets all critical power and size optical edge requirements while being ready to scale and support future transport demands.